Bicasso Dining Table With 4 Chairs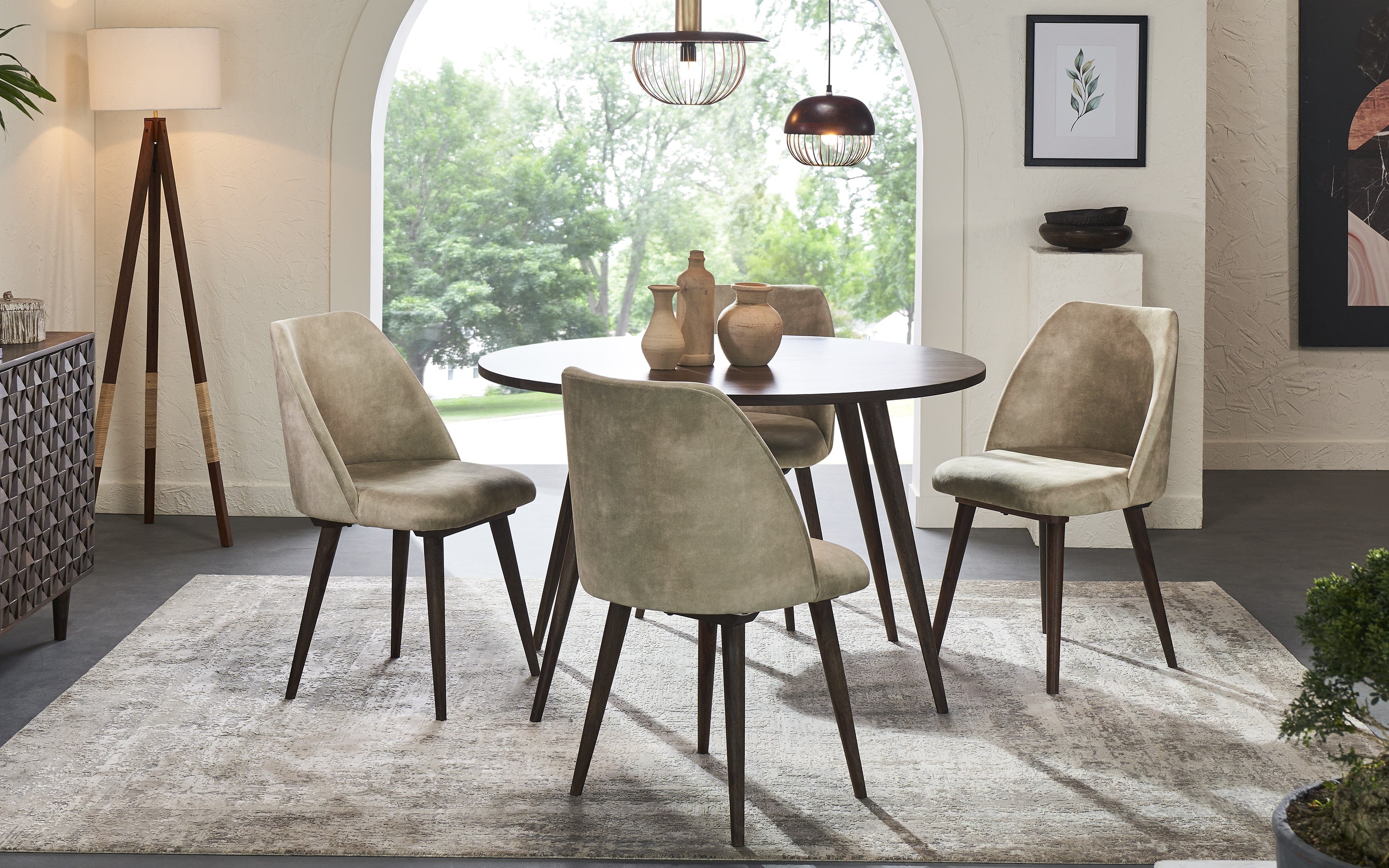 Bicasso Dining Table With 4 Chairs
Special Price
₹85,229
Regular Price
₹94,699
Customer Reviews
Good product

Very nice product ..satisfied ..it is beautiful and also it occupied less space ..

Good product

Very very nice dining table ..feeling very happy to purchase it ...
Bicasso Dining Table With 4 Chairs
Orangetree presents a perfect blend of art and precision in this timeless collection called Bicasso. Carved out of sheesham wood, the unique design takes up the mind with the reminiscence of the work of Picasso. The American walnut finish, which resembles the tint of the walnut tree presents the sheesham wood in its simple beauty. Yet again Orangetree opens up new horizons to the World of design by creating a minimal and artistic collection.
Special Price
₹85,229
Regular Price
₹94,699
What our Customers have to say
Thank you OT for the Impeccable products and service. It feels like a family whenever i call you :) Nishita , Hyderabad
Spotted Toshi Chest Drawer looking modern and contemporary in Tisca Chopra's cosy corner. Tisca Chopra, Actress
Divya Boppana spotted at Orange Tree Hyderabad Store ; Discovering our latest collections Divya Boppana, Digital Creator
Spotted Orange Tree Alan Bench looking super comfortable in Nauheed Cyrusi's cosy corner. Nauheed Cyrusi, Actress
Tanvi Thakker giving a warm welcome to our best-selling mallawi collection. Tanvi Thakker, Actress
Spotted OT Yoho Floor Mirror looking super elegant in Jia Singh's Living Room. :) Jia Singh , Consultant
Where they promise to make your stay a memorable experience - A home away from home! Theory 9 - Premium Service Apartments, Bandra
Keeping in mind the requirements of the client- who is a penchant traveller and an industrialist by profession, the ambience at cafe is designed in a way that it offers rejuvenation and a feeling of being close to nature. The client wanted to give unique dining experiences to the food lovers of the city. Hilla Restaurant Cafe Banquet , Rajkot
The best Mirror for my Home :) Thank you Orange Tree Nisha Aggarwal , Actress
Mallawi pendant light blends seamlessly and timelessly into the décor Radhika Shenoi, Mumbai, Interior Stylist
Beautiful lamp from Orange Tree, they make some amazing distinctive designs and I absolutely love to picking up lamps from them Roshni Chopra, Mumbai, Actress
I love how it adds to the interiors and at the same time blends in with space. Sarah Sham, Mumbai, Designer
I love how it adds a pop of color to the space Niki Mehra, Delhi
Thank you, really loving the dining table concept. Really good finish. Payal Singh, Goa
Excellent products, excellent rate, excellent service, the products look exquisite, in love with this brand! Priya Jain, Goa
Excellent design, perfect execution, easy to assemble, professionally managed, prompt delivery, robust packaging. Bhuvan Chaudhry
The Mallawi light will be the art piece that will add aesthetic to the mundane parts of the home. Anushri Bhattacharya, Bangalore
The zen chair brings out the zen of the home corners. Anushri Bhattacharya, Bangalore
These beautiful light fixtures from the Orange Tree have elevated the ambiance of my home! Nihita Bajaj, Mumbai
I love reading and the Klimt Floor lamp from Orange Tree is my perfect companion. it brightens up my home. Namrata Soni, Makeup and Hair Artist
Thanks for the beautiful lamp! It brightens up the whole space. I just love it! Pooja Thakur, Mumbai
These Klimt Mirrors are beautiful and so well made, thanks Orange Tree! Tina Kakkad Dhanak, Luxury & Fashion Influencer
Very happy with this unique floor lamp, this has become my favourite space in the house now! Sara Arfeen Khan, Influencer
The lamps I got from Orangetree are exactly the pieces I was looking for in my home. They are beautiful! Mohit Rai, Stylist
I simply loved the green lamp- it sits perfectly in my corner setting. Huma Qureshi, Actress
The furniture and the lamp blend so well with what I had in mind. Feel great! Anushri, Bangalore
Beautiful products from Orange Tree, extremely happy and excited to see them light up my home! Priyanshu Maheshwari, Gurugram
Right from ordering to manufacturing to delivery and installation, they were really commendable and super user friendly. Archana Immaneni, Hyderabad
The classy look of this mirror perfectly fits my fairy tale imaginations. Loved the product! Decode Architecture
I feel so lucky to have found such an elegant piece of art for my room. Highly recommended! cupspaces, Pune
This lamp creates an immersive and aesthetic learning space. Highly recommended! Anushka contractor, Mumbai
These beautiful lamps transformed our Café into an aesthetic food hub. Superb experience with OrangeTree! Beans & Brews Café, Chandigarh
This must-have piece from OrangeTree has spirited my living room with a retro touch. THAT_DECORBEE house, Haryana