Dining tables are often one of the main focal points in a living area. They can be both stylish and functional. A large, solid dining table can be the perfect base for family meals and, thanks to its sturdy nature, is bound to last through the years.
The Stylish Modern wooden dining table designs from Orange Tree will be the most important element of your modern home. A wooden dining table makes for an elegant addition to any room with the dining table chair, but it can also be personalized according to your needs. For example, if you want to create a modern dining area in your kitchen or living room then you may want to choose from one of these stylish designs:
Barcelona Dining Table
This Barcelona Dining Table, authentic style is just what you need to add to your dining room. The acacia wood and metal finish give this table a beautifully rustic look while still adding modern appeal. This dining table is hand-crafted with a solid wooden top, metal legs, an American walnut finish on the wood and gold powder coating on the metal legs.
Paolo Dining Table
Our elegant Paolo dining table is designed to last, with a stone wash natural finish that compliments any room. With its solid wood construction, this table features an innovative design for extra stability. Finished with a piece of acacia wood, this dining table is beautifully crafted and durable enough to withstand years of use.
Mazi Dining Table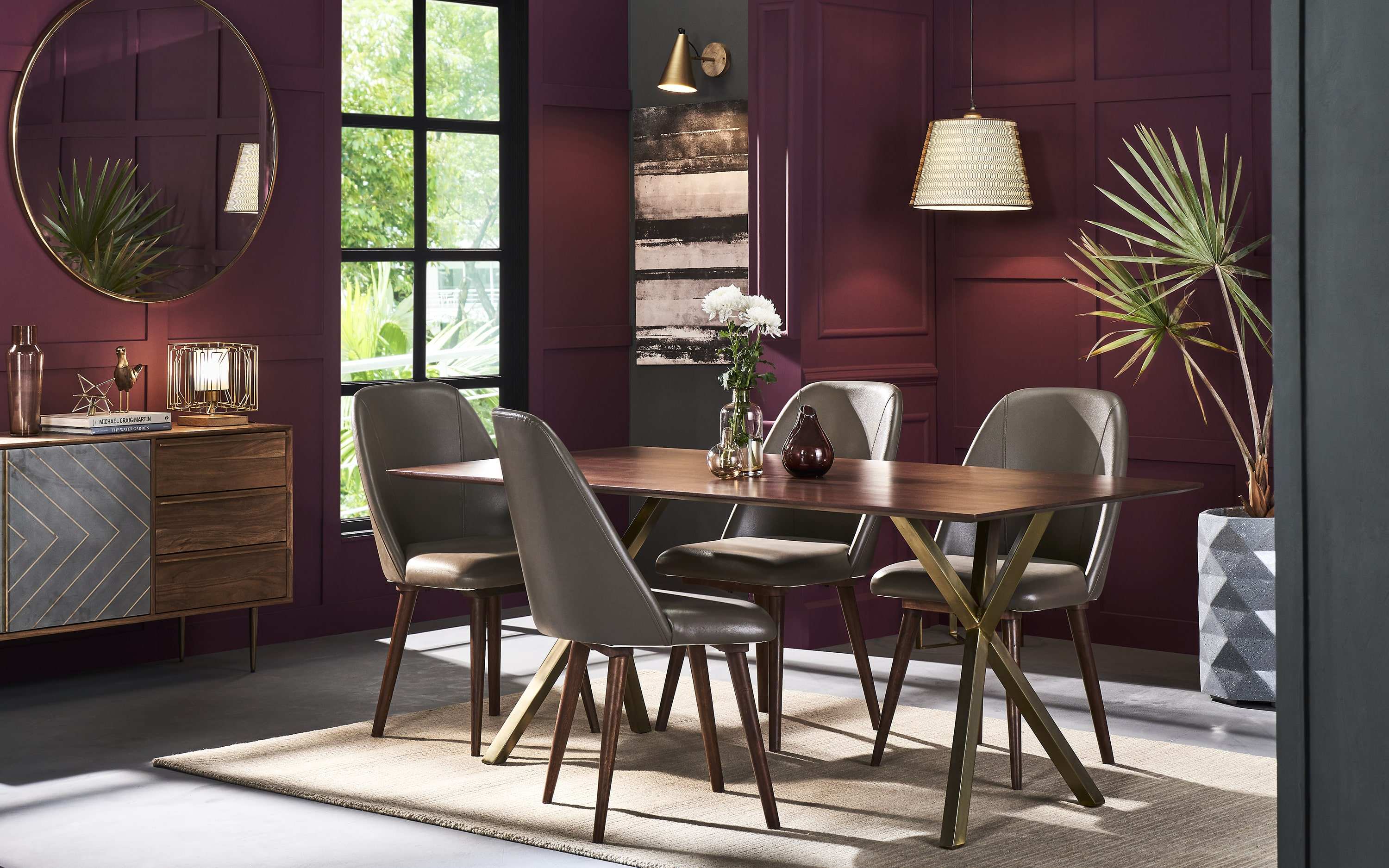 Mazi dining table is a beautiful collection of solid acacia wood, metal and light brown finish. The restaurant-style metal, legs and glossy gold powder coating give the furniture a modern touch. This exquisite setting will add sophistication to any room of your house allowing you to enjoy dinner without leaving your home.
Bicasso Dining Table
Renowned for the high quality of its creations, The Sheesham wood has been used to produce this delicate table, which features a round shape and a stunning American Walnut finish. The table comes in 4-seater and 6-seater, meaning you can create an intimate seating area or a large banquet table depending on your needs.
Yoho Dining Table
You'll love this perfect mix of style and function in this Yoho Dining Table. Its solid wood materials are protected by a beautiful rustic finish that brings a unique look to the piece, making it both comfortable and great for everyday use. The traditional design of its legs is complemented by the gold electroplating on the edges of each leg that makes it feel luxurious and elegant.
Toshi Dining Table
Discover the comfort and elegance of this Toshi wooden dining table in a natural finish, inspired by the perfection of nature. The Toshi Dining Table is made from acacia wood and iron. The natural finish on the wood will give this piece a light and warm look, while the powder-coated metal provides a modern touch.
Conclusion
In conclusion, when it comes to elevating the elegance of your dining room, nothing compares to the timeless charm of a Stylish Modern Wooden Dining Table Set Design by Orange Tree. A beautiful dining table serves as the centerpiece, radiating its beauty to the surrounding furniture and captivating everyone present in the room.
At Orange Tree, we understand the importance of creating a cohesive and stylish dining experience. That's why we offer not only exceptional dining chairs but also a remarkable selection of dining tables. Complete your dining space by pairing our exquisite dining chairs with a stunning dining table that seamlessly complements your style and enhances the overall aesthetic. Don't settle for anything less than perfection when it comes to your dining room – choose Orange Tree for exceptional furniture that will truly transform your space.
Related Blog: